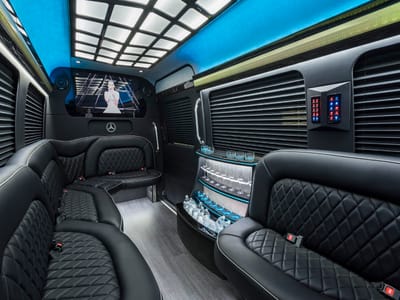 Goodman Executive Sedan Service & Limousine Service of Frisco, Texas is a reliable and professional transportation provider. With extensive screening and training of their chauffeurs, as well as being fully licensed and insured, they prioritize safety and customer satisfaction. They offer a variety of transportation services, including airport limousine and concierge, point-to-point travel, hourly charters, and special occasion services. With availability 24/7, they strive to meet all of their clients' ground transportation needs in the Dallas area and beyond.
At Goodman Executive Sedan, we believe that every ride should be an experience in luxury and comfort. Our mission is to provide the highest level of service to ensure that you enjoy your ride from start to finish.
We understand the importance of having professional and courteous drivers, which is why we handpick only the best to ensure that your ride is as pleasant as possible. Our drivers are trained to anticipate your needs and will go above and beyond to ensure that you have a safe and comfortable ride.
In addition to exceptional service, we offer a variety of amenities to make your ride even more enjoyable. From Wi-Fi to refreshments and entertainment options, we provide everything you need to stay connected and entertained on the go.
At Goodman Executive Sedan Service, we know that time is precious, which is why we provide on-time and reliable service every time. Our team works tirelessly to ensure that your ride is smooth and stress-free, no matter where you're headed.
We also understand that every customer is unique, which is why we offer personalized service to meet each individual's needs and preferences. Whether you're traveling for business or pleasure, our team will work with you to create a custom experience that meets your exact needs.
At Goodman Executive Sedan Service, we are committed to providing the best possible ride experience. Book your ride with us today and experience the luxury and comfort you deserve.